Thieves: I ♥love♥ the story about the origins of this powerful blend, and so do my kids who often ask me to tell it to them, especially when they smell it diffusing.
Legend has it that... in the 15th-century, a group of thieves rubbed oils on themselves to avoid contracting the plague while they robbed the bodies of the dead and dying. When they were finally caught, the thieves were forced to tell their secret and disclose the formula of the herbs, spices and oils used to protect themselves in exchange for a lesser punishment.
Thieves 
is Young Living's
revolutionary
blend containing the essential oils of Clove, Cinnamon Bark, Rosemary, Lemon and Eucalyptus Radiata.  Applying Thieves Essential Oil to the bottoms of your feet is an effective way of getting this therapeutic grade oils to reach every cell of your body.  This month's Thieves Household Cleaner is an all-purpose concentrated cleaner (a couple of drops diluted in water goes a long way) formulated with 100% plant and mineral-based ingredients.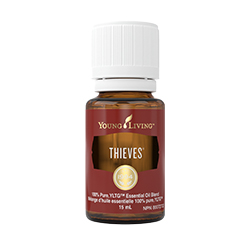 Thieves has a spicy, welcoming aroma. It contains a blend of powerful essential oils making it highly anti-viral, antiseptic and anti-bacterial. Used to boost the immune system and keep those pesky germs and bugs away.
Aromatic: Diffuse up to one hour three times daily or Inhale directly.

Topical: Apply 4-6 drops to wrists, chest, base of neck, bottoms of feet or along spine. Dilute as per guidelines.